Culture days are coming up and I will host and activity in my studio with Art therapist and Big Picture co-founder Sophie Babeanu:
Everyone can draw for the Big Picture Art Project.
September 30th and October 1st
10 am to 4 pm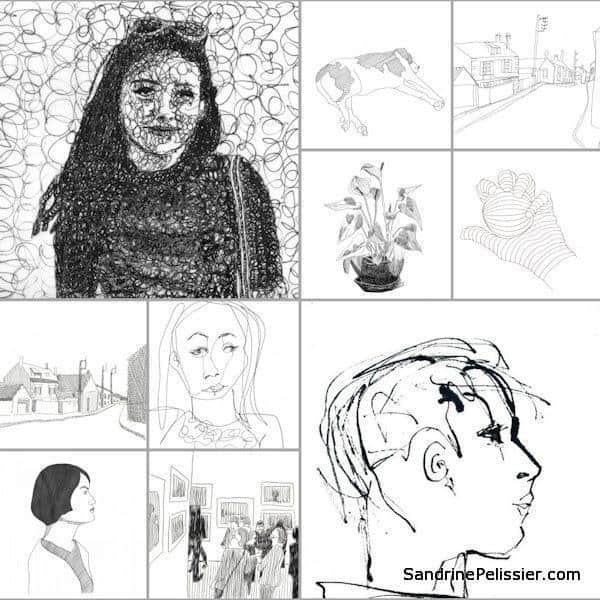 The big picture is a collective art project where people in our local area and around the world are collaborating to create a big mosaic picture from thousands of drawings. You want to participate in the project and:
– The idea of drawing sends chills down your spine?
– You have an interesting story to share?
– You could not use a computer if your life depended on it?
– What on earth is a scanner?
– Last time you drew something was in elementary school
– Your dog ate your drawing
– You feel like having a conversation with two heavily french accented ladies.
Come and see us, we can help !
Sandrine and Sophie will show you some simple drawing techniques: line contour drawing, line and cross hatching, cross contour drawing, scumbling technique, drawing with twigs. You will also have the chance to try for yourself some fun techniques like continuous drawing, blind continuous drawing, and drawing with your non dominant hand.
Supplies will be provided.
---
Sandrine Pelissier is a North Vancouver-based visual artist and the author of Fearless Watercolor for Beginners. Her work has been published in many books and magazines.
She writes the popular blog: www.paintingdemos.com
https://sandrinepelissier.com/
Sophie Babeanu is a certified Expressive Arts Therapist. She graduated from Langara College in Vancouver). She has hundreds of hours of practice with children, seniors and adults from all walks of life.
http://www.expressiveartsvancouver.com/