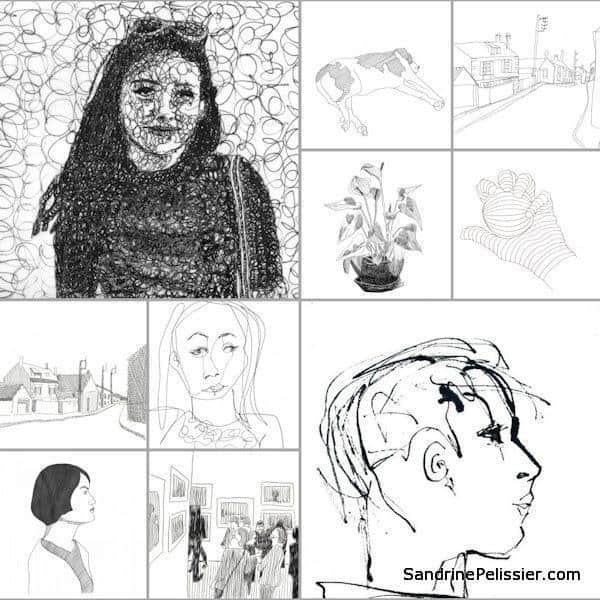 Anyone Can Draw! The Big Picture Collective Art Project with Sandrine Pelissier & Sophie Babeanu
North Vancouver
Sat, August 12, 10:30 AM – 12:00 PM
Sat, August 12, 1:00 PM – 2:30 PM
Space is limited and registration is required.
Please visit Opus North Vancouver or contact them at 604‑904‑0447 to register.
The Big Picture is a collective art project where people in our local area and around the world are collaborating to create a big mosaic picture from thousands of smaller drawings.
If you would like to participate in this exciting project and agree to any of the following:
The idea of drawing sends chills down your spine
You have an interesting story to share
Last time you drew something was in elementary school
Your dog ate all your drawings (we won't ask…)
You want to try some simple exercises for yourself
You feel like attending a demo by two heavily French accented ladies
Then this is the demo for you!
Sandrine and Sophie will show you some simple drawing techniques: line contour drawing, line and cross hatching, cross contour drawing, scumbling technique, drawing with twigs. You will also have the chance to try for yourself some fun techniques like continuous drawing, blind continuous drawing, and drawing with your non dominant hand.
Attendees are asked to bring along a sketchbook and a pencil or pen to sketch along with Sandrine and Sophie.
---
Sandrine Pelissier is a North Vancouver-based visual artist and the author of Fearless Watercolor for Beginners. Her work has been published in many books and magazines.
She writes the popular blog: www.paintingdemos.com
https://sandrinepelissier.com/
Sophie Babeanu is a certified Expressive Arts Therapist. She graduated from Langara College in Vancouver and is also a member of the International Expressive Arts Therapy Association (IEATA). She has hundreds of hours of practice with children, seniors and adults from all walks of life.
http://www.expressiveartsvancouver.com/