Sandrine ROCKS this book! Fresh, fantastic and useful!
This is the most wonderful book I have purchased in a very long time. It has DIFFERENT IDEAS for creating magnificent art. It is so very refreshing to see how Sandrine creates her spectacular work. In this book she shares in very clear, precise and
and USEABLE details, how to use her methods to create our own masterpieces! The photography is beautiful and Sandrine is so generous in her gift of sharing artistic and useful information. I highly recommend this awesome book! I simply cannot say enough good things about it. I LOVE THIS BOOK!
Corralesgal
Gorgeous Guide to Flower Painting
As soon as I saw the cover of PAINTING IMAGINARY FLOWERS, I was hooked! I adore the bright blooms and abstract patterns created with mixed media. This truly beautiful guide teaches you a step-by-step organic process for unique flower creation, set off by fun abstract backgrounds that produce a lovely, faux collage effect. I have an idea using this technique for a large painting for my living room. Can't wait to start! 5/5
Literary Soiree
Beautiful book
This book is beautiful and the technique is very well explained. This is a very different and fun way of painting, much reliant on the inks and canvas to first create a wonderful luminous effect. The author explains in depth about the process, equipment and how to achieve the fabulous results – each and every one unique and one of a kind art work. The second stage is to use these background patterns, to search out shapes to create, develop and build glorious imaginary flowers effects.
Again the explanation is well written and easy to understand – I really liked this book.
Leyla
Fearless watercolor for beginners
When I started watercolor, "Fearless watercolor for beginners" was one of the first book I got. I found simple tips and understandable explanations with step by step demos which encouraged me to keep on. Plus I like the mix-media ideas, reachable for beginners too. The book kept me started and keeps me going, I come back to it quite often for inspiration and basics. Also the autor gives colors she uses which I didn´t find often in other books, so appreciated for the glazing techniques!
Valérie
Great Artist, Great Art-Teacher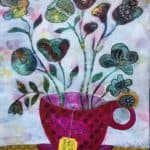 I want to share with everybody about the experience I had taking 3 online classes an a book from Sandrine Pelissier.
I first bought the book of Fearless Watercolor for beginners. I highly recomemd this book for those who want to learn how to paint in watercolors. It teaches you step by step how to use watercolors and how to apply the different kind of techniques you can use. It also explains you the types of watercolor papers as well as the brushes. With this book it gives the energy to start painting with watercolor and the inspiration to learn more about it.
Once I read the whole book and made all the techniques from the book, I wanted to keep practising not only in watercolor but also with other medium, I took painting Imaginary Flowers. This online class was fun, beautifull, and the most important, relaxing class! Here you put in practice your imagination and creativity! There is no wrong or right here, you just need to have a grest time doing this!!
Also, I took 26 Weeks of Training and Inspiration. This is another of her online classes that I was addictived! I learn a lot here. It gave me the discipline to do it every day for 26 week. Of course, you can do it at your own pace, but I was hooked with this class. I highly recommend it!! If there were a second part, with my closed eyes I would do it!!
Lastly, I took the Express yourself, creative well being class. It was another class that helps you know yourself through your paint. This was fun. I enjoyed a lot!!
Lucia Anderson
Learn Easily & Have Fun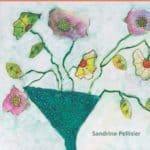 Not only did I buy "Fearless Watercolor," I bought "Painting Flowers From Imagination," the DVD. I love the way Sandrine guides one through the painting process from start to finish, and makes it fun, unique and easily understandable. There's always a piece to feel great about when you complete the process.I can't wait to get my hands on "Painting Patterned Trees."
I can promise that anyone interested in watercolor or mixed media will love her style as well as the way she teaches.
Diana Hunter
Watercolour without fear!
Even though I am a professional artist, I work in Acrylics and mixed media – watercolor painting seemed far out of my grasp. But I did become interested in it and purchased Sandrine's book 'Fearless Watercolor for Beginners'. And the title lives up to its name! It is straightforward and demystifies the practice. I found success in a new medium and couldn't be more pleased!
Jenn
An Excellent Book for All Artists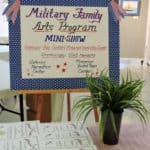 I am a fairly experienced art teacher, artist and gallery member show director. I purchased the book "Fearless Watercolor for Beginners" about 2 years ago in order to get some fresh ideas for my watercolor class of mixed level military family artists aged 5 – adult. I was immediately impressed with the variety of new techniques I could explore, especially the ones involving Yupo, with my students! I was very pleased to find ideas that were fairly simple, yet unusual, and adaptable to the various skill levels. I enjoyed reading about Sadrine's use of gouache with watercolor, especially pertaining to backgrounds, the unconventional approach to composition for portraits, and the use of zentangle designs for backgrounds. I have also used this book to inspire my private teenage art student numerous times with a variety of mixed media techniques in our weekly lessons. I can't tell you how often this has been my go to book for resource and ideas. It is written with excellent technique descriptions in clear language, on a page or two with fine painting examples included. I will continue to refer to it on a regular basis, and no doubt will find more gems to utilize! "Fearless Watercolor for Beginners" is a unique and thoroughly enjoyable book, not just for beginners, but useful for watercolor and watermedia artists of all skill levels!
Pat Crowl
Always an Inspiration
I have your book…"Fearless Watercolor" and many of the Splash books where your art is included. I have taken your Flowers from Imagination course as well as viewed your courses on Artist´s Network. I always find your work and instruction very motivating and inspiring. I also found the Flowers course to be very freeing and fun.
I am looking forward to what you have planned in future books or instructional material.
Have fun watching your paint dry…..
Cynthia J.S.
Cynthia J.S.
A great book!
A MUST HAVE FOR ALL WATERCOLORISTS.
Great for beginners
This is a very good book for beginners as it goes over the basics of watercolor painting and the ways of working with water. I like how she includes other media like working on Yupo, trying out collage and watercolor pencils. She also has links to videos and more reading material you can access from the book.
Lucy
Great Ideas
Lots of great ideas and techniques! I shared this with my watercolor teacher and she's already implemented some of them in our class.
Fearless for beginner and motivational for the seasoned watercolorist
I was hesitant to order, yet another watercolor book from a seasoned artist, BUT, this book is different, it is well worth the cost. I believe the artist/author was successful in teaching technique, without boxing the beginner into a style. She encouraged the reader/beginner to let-go of the "paint-by-number concept" and trust the vision. The sections on paper, brushes and paint was very helpful: explaining the differences as attributes, rather than challenges. I found the book to be invaluable for the beginner and motivational for the seasoned watercolorist.
shadeofboo
Five Stars
Great book – will help immensely in teaching beginners
gemco