Organized by Sandrine Pelissier and Sophie Babeanu
We are passionate about making art accessible. We believe that if you can write, you can draw.
Every year we organize a Culture Days event that will reveal the artist in you in a fun and relaxed environment.
Everybody is an artist!
We truly believe that art is for everyone and we designed a fun activity that will have you make a unique picture, easily and in no time. All you have to do is relax and let your imagination do all the work.
This activity is suitable for kids all ages as well as for adults, even the adults who could not draw to save their life.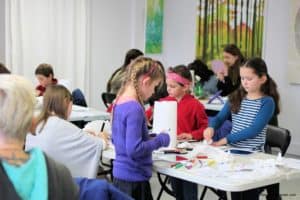 If you like the picture you made, Sophie and Sandrine will help you upload it to the Big Picture Art Project, and online collective art project where artists from everywhere in the world are sharing drawings and stories.
When :
Sunday Sept 30 : 10 am to 4 pm
Where: