I made 2 art lessons for the Cloth Paper scissors magazine and this is the second one: It shows you how to add visual texture with a dipping pen.
The lesson comes with a lot of pictures and even a short video.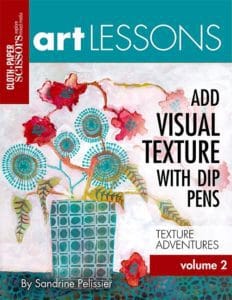 Art Lessons: Volume 2 with Sandrine Pelissier
Adding Visual Texture with a Dip Pen
By Sandrine Pelissier
Format: Art Lesson DownloadPatterns are a great way to add complexity to a painting, and a dip pen is an inexpensive, easy-to-use tool for creating them. In this February Art Lesson, with accompanying video, Sandrine Pelissier uses a dip pen to create unique patterns, adding visual texture and depth to her paintings. Read along as Sandrine shares her techniques and her art, and turns you into a dip pen enthusiast.​
Art Classes on The Artist Network
You can also check these inspiring blog posts on the
​Cloth Paper Scissors blog