I am very happy to be part of that exciting exhibition coming up at the North Vancouver Cityscape Community Art Space.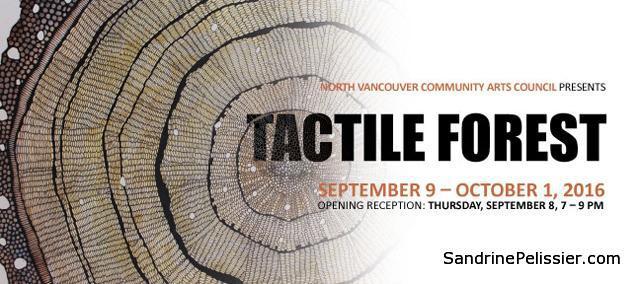 CityScape Community Art Space
335 Lonsdale Avenue, North Vancouver
OPENING RECEPTION
 | September 8, 7-9pm
September 9 – October 1, 2016
Tactile Forest brings the theme of botanical life into the gallery landscape. Mossy greens, golden browns, sea and sky blues mimic our natural world through acrylic and oil paints, ceramic and fibre sculpture, contemporary embroidery and unique mixed media photographic works.
Each of the seven artists imbue their experience of nature through diverse mediums, reflecting the diversity of the tactile and intangible within our forests and the connection art has with nature.
Artists: Bev Ellis, Julie Johnston, Jane Kenyon, ByNature Designs, 
Zed Payne, Sandrine Pelissier and Heather Talbot.
Artist Talk | Thursday, Sept 15, 6:30-7:30pm Join Nicolas Rousseau, BSc, MSc, Horticulture Engineer and ByNature President as he leads us in a discussion about biophilia, the importance of bringing nature into our interior spaces and the intrinsic bond between humans and other living systems.
Sponsor:

STAY CONNECTED:
Media Inquiries:
Caitlin Bryant
Exhibitions Coordinator
exhibitions@nvartscouncil.ca | 604-988-6844
Interviews available and high-resolution images available upon request.
North Vancouver Community Arts Council, 335 Lonsdale Avenue, North Vancouver, BC V7M 2G3 Canada