Join me on Tue, Jun 23, 2015 10:00 AM – 11:00 AM PDT for a free webinar hosted by the Artist's network.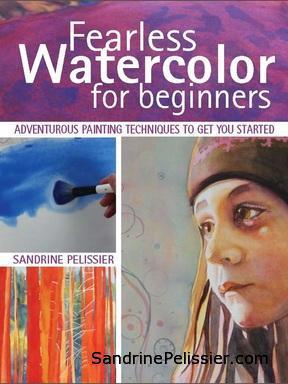 Together with Sandrine Pelissier, 
fearlessly explore the wonderful world of watercolor
. Embark on an adventurous journey with Sandrine; she will discuss the importance of enjoying the artistic learning process, when to break all the rules, the excitement of experimentation, creating tricks by taking risks, and the natural process of finding your own artistic style.
In this FREE Artists Network Online Event, get a special preview into Sandrine's new book Fearless Watercolor for Beginners: Adventurous Painting Techniques to Get You Started. You're fearless watercolor adventure starts now with the help of Sandrine. You will love this watercolor book if you are new to watercolor and want easy lessons in the watercolor medium, you want to learn to paint a variety of subject matter, or you want to overcome the fear of creating watercolor paintings.
---
Sandrine will shed some light on gathering materials, finding a place and time to paint, some basic watercolor techniques, how to add stunning textures to your watercolor work, experimenting with watercolor mixed media, and how to do a self-evaluation at the end of a piece to improve moving into the future.
Join Sandrine on a Fearless Watercolor Adventure!
Click here to Register for this FREE Artists Network Online Event!